The idea of oiling your hair twice a week seems old school, right? Wrong! Turns out, your mom was right to slather oil on your hair regularly. Oiling is the best way to pamper your hair. It gives your hair the essential nutrients and proteins it needs to become stronger and shinier. One of the best ways to get healthy, long, and thick hair is to sit back and enjoy a nice hot oil massage. A good hair oil with high-quality ingredients promotes healthy hair growth, relieves your scalp of bacterial infections, and prevents premature graying of hair. In this article, I have compiled a list of the 15 best hair growth oils available in India. But first, let's talk about what you should be looking for in a hair growth oil.
Qualities Of A Good Hair Growth Oil
1. Promotes Faster Growth
This one's obvious. Any good hair growth oil will nourish your follicles and create the right scalp environment for maximized hair growth.
2. Stimulates Hair Regrowth
A good hair oil will not only boost hair growth but also stimulate the dormant follicles on your scalp to produce new hair strands. This quality helps improve hair volume and thickness.
3. Curbs Hair Fall
A lot of factors can lead to hair loss. A good hair growth oil will be able to curb the issue at its root (pun intended!) by ensuring that your scalp and follicles are in top shape.
4. Nourishes Follicles And Hair
Only a nourished follicle can produce healthy hair, and your hair needs constant nourishment to remain healthy.
5. Conditions Hair
Your hair needs optimum hydration to keep damage at bay. This is because dry hair is more susceptible to damage than conditioned hair. Dryness can lead to issues like split ends, breakage, frizz, and awful hair texture.
Now that you know how to pick out a good hair growth oil, let's check out the best ones available on the market.
1. Biotique Bio Bhringraj Therapeutic Oil For Falling Hair
What's better than a brand that combines modern science with Ayurveda? This combination can give you the kind of hair you've always dreamt of! Biotique Bio Bhringraj Therapeutic Oil is formulated with a blend of potent herbs like pure bhringraj, tesu, amla, mulethi, coconut oil, and goat milk. These ingredients help treat alopecia and other scalp and hair concerns to give you clean, fresh, healthy, and gorgeous-looking hair. It improves the texture of your hair, nourishes your scalp, strengthens each hair strand, promotes new hair growth, and prevents graying. The best thing about this oil is that it makes your hair visibly silkier in just one use.
Pros
Light
Non-sticky
Treats dryness
Controls hair fall
Travel-friendly packaging
Affordable
Pleasant fragrance
Cons
None
2. Khadi Natural Henna & Rosemary Herbal Hair Oil
An array of unique ingredients make up the glorious formula of Khadi Natural Henna & Rosemary Herbal Hair Oil that promises to give you long, thick, and healthy hair. This luxurious hair growth oil contains rosemary and henna that treat inflammation and soothe your scalp. It enhances new hair growth, restores your natural hair color, and imparts brilliant shine to dull hair. This oil prevents hair loss and promotes hair growth even on balding scalps. It also makes your hair soft, silky, lustrous, and more manageable. It acts as an antioxidant and kills bacteria to give you a healthy and clean scalp. This nourishing oil adds volume and improves the texture of thinning hair.
Pros
Non-sticky
Non-greasy
Prevents split ends and breakage
Conditions your hair
Free of parabens and mineral oils
Quick results
Cons
Not suitable for all hair types
3. Kesh King Scalp And Hair Ayurvedic Medicinal Oil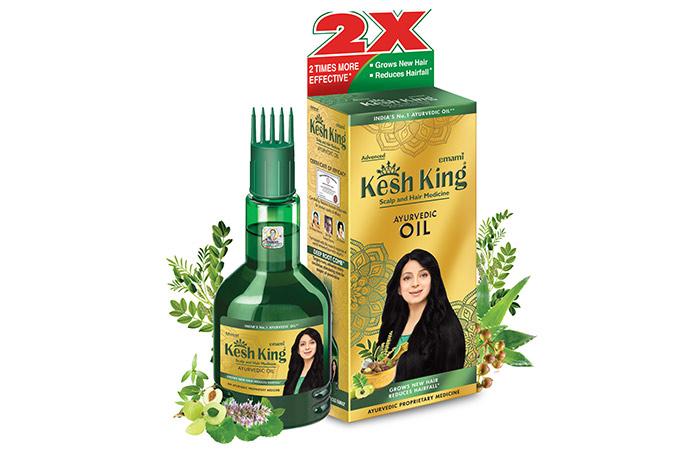 Kesh King Ayurvedic Medicinal Oil is prepared according to the principles laid in Ayurvedic texts like Charaka Samhita, Panchakarma, and Siddha Medicine. It deals with a myriad of hair concerns like hair fall, dandruff, and dryness. This oil is prepared using the Tel Pak Vidhi method, a process where a number of herbs are cooked in a blend of hair growth carrier oils like castor, coconut, and sesame oils. This oil, in particular, is prepared with 21 precious herbs cooked in sesame oil. This 100% Ayurvedic formula helps in the regrowth of hair and stimulates your roots to give you thick, strong, and healthy hair. Its ingredients like brahmi and bhringraj also help in treating headache and sleeplessness.
Pros
Adds volume
Long-lasting shine
Makes your hair more manageable
Quick results
Invigorating aroma
Cons
Too much oil required per use
4. Soulflower Coldpressed Olive Carrier Oil
This soothing yet powerful hair oil is a holy grail for those suffering from dry and limp hair. It moisturizes your scalp to promote healthy and strong hair growth. Its light and non-sticky formula does not weigh your hair down. This 100% virgin olive oil is prepared using the no-heat method to retain its therapeutic and healing properties without any side effects. It features a blend of vitamins E, K, and D3 that moisturizes even the driest parts of your hair. The rejuvenating effects of olive oil strengthen your hair while keeping your strands healthy and damage-free. The best thing about this oil is that it cures hair loss and revitalizes each hair strand to prevent split ends.
Pros
Adds shine to your hair
Stimulates healthy hair growth
Improves the texture of your hair
Prevents breakage
Affordable
Cons
5. Parachute Advanced Ayurvedic Deep Conditioning Hot Oil
To keep your hair from drying out during the winter, Parachute formulated this Ayutvedic Deep Conditioning Hot Oil. It reduces dryness and nourishes damaged hair and makes it soft, silky, and healthy. It contains rare deep conditioning herbs like white thyme, black pepper, hibiscus, and malkangani extracts. White thyme, in particular, helps in hair growth by the blood circulation in your scalp. This vitamin-rich oil contains flavonoids that have exceptional growth-stimulating and anti-dandruff properties. It also strengthens your hair, combats hair loss, and reduces itchiness on the scalp.
Pros
Contains special warming oils
Nourishes your hair from within
Relieves headache and stress
Reduces breakage
Makes your hair more manageable
Cons